Hassle-free parts ordering with NAPA Auto Parts Integration
Facilitate parts ordering and accessing the extensive catalog of NAPA Auto Parts directly from our platform. Experience enhanced efficiency and improved Inventory management with AutoSoftWay's NAPA Auto Parts integration.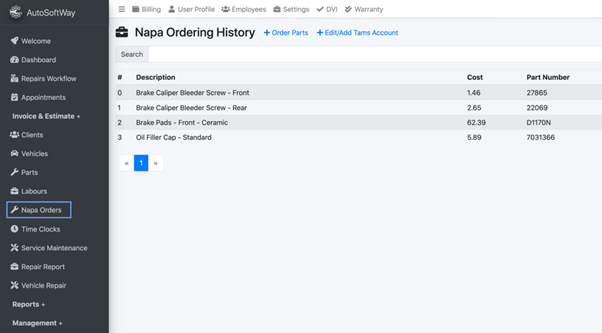 Gain direct access to the extensive catalog of NAPA Auto Parts, allowing you to easily browse and select the required parts.
Access real-time product pricing information and availability
Minimize errors in part numbers, quantities, and pricing, ensuring accurate invoicing and reducing the chances of incorrect orders.
Guarantees that the parts you order are compatible with the specific vehicles or equipment in your shop, reducing the chances of errors and return orders.
Quickly search and locate the required parts, saving time and effort compared to manual searching through multiple sources.
Let's help you get started!
---